"Simplicity at its Best" – A Women's Yoga & Nature Retreat – 3rd annual Rhythms of Nature Retreat
September 3-6, 2018
Estes Park, CO
Single Occupancy $799 (all inclusive)
Double Occupancy $599 (all inclusive)
Commuter $389 (all inclusive except Mon/tues dinner & fri lunch)
Location: YMCA of the Rockies, Estes Park, Colorado.  Wind River Lodge – beautiful!
Contact Laura, retreat leader for information or to discuss your particular needs and interests.  laura@homegrownyoga.com  (720)218-1953
Ahhhh – Life! Finding, appreciating and living life from your center is where it is at. In this place, you are peace, joy and abundant!    Receptive, open and relaxed – in love with life itself, empowered by almighty God. In and from your special place that is you, your bodies wisdom and not so silent voice tells you exactly what you need to do, supporting you every step of the way. From your center, you can listen and respond peacefully, authentically, making your contribution to benefit life, enjoying the fruit of ones actions in a miraculous creative flow. Healthily, mindfully, and with ease. This takes discipline, desire for it, care, presence, and practice. Drop what is not necessary, open to what is, and live your life authentically, the simple way!
Sometimes you just need to take a step back for yourself, learn new skills, receive support, have time to reflect and share.  And sometimes you just need to have a really good time, while slowing down and getting back to yourself. You might need friendship, skillful support to reconnect and realign. Yoga, nature, majestic hikes, supportive community, sacred song, and art – all can assist you in finding, resetting, clarifying, and divinely celebrating yourself, so you are more able to celebrate others. This year's retreat will help you do just that! The 2018 theme is "Simplicity at it's Best". It is an all women's retreat designed by women for women.  With the fact paced lifestyle, information overload, and the many demands and desires in our lives, this retreat is designed to reset you on unsurpassable beautiful land amidst 13 and 14,000 foot peaks of the Rocky Mountains.  As the Y likes to say "although there is no wifi, you'll find a greater connection!"  Although there is wifi that you are free to use or choose to disconnect from, the retreat  is designed for the woman who enjoy yoga, nature and hiking, sacred song, sacred sharing, and journaling.
This all inclusive, relaxing three night, four day, yoga and hiking retreat has been designed just for you. Through spectacular walks, informative talks, picnic hikes, daily yoga classes, meditation instruction, sacred song and drumming circle, star gazing, journal making, and a special community dinner, your mind, body and spirit will receive the boost (spark!) and rejuvenation it needs.  The retreat is a friendly supportive environment that is totally open to any age or experience. You'll realign, deepen into your center, learn new skills, take home some effective tools, meet new friends, and have awesome experiences. Give yourself the opportunity you absolutely deserve.
The peace of mountain life and the thoughtful yoga schedule is powerful and palpable, and always full of good medicine ready to be dispensed! Your heart, body and relationships will thank you – rediscover your rhythm with nature.  Deliciously!  Simply!  Looking forward to seeing you here. 
Retreat Reservations 
Single Occupancy Room $799 (all inclusive)
Double Occupancy Room $599 (all inclusive)
Commuter $389 (all inclusive except Monday/Tuesday dinners & Friday lunch)
Checks may be sent by mail – see below.  Or, for your convenience a PayPal option is available below.  Fees apply.
Pay by check:  Please include your name, mailing address, phone number, who you are rooming with if applicable. Make checks for the full amount payable to Homegrown Yoga and Massage LLC, and send to:
C/o Laura Collins
PO Box 20573
Estes Park, CO 80511
Pay by PayPal:  Those using PayPal, please include the following information in the "notes" section:
Phone number
Roommate name (if applicable)
Laura will call to chat about retreat and any particular needs or interests you may have.
| | | |
| --- | --- | --- |
| Single Occupancy | $799.00 (+processing fee) | |
| Double Occupancy | $599.00 (+processing fee) | |
| Commuter | $389.00 (+processing fee) | |
Check-in: 3:00 pm Monday September 3, 2018 (first meal Monday dinner)
Check-out: 1:00 pm Thursday September 6, 2018 (last meal lunch Friday)
For more information contact Laura at (720) 218-1953 or e-mail: laura@homegrownyoga.com
Retreat Highlights
Hotel style lodge room with two queen beds, full bath, telephone and wi-fi
All meals included, special community dinner Wednesday night
Outdoor & indoor yoga in mountain setting with Laura Collins
Spectacular Daily hikes with picnic lunch & guide by a trained and knowledgeable hike master
Adjacent to Rocky Mountain National Park – inspiring, majestic views
Yoga workbook with explanations, pictures and diary pages
Nature talks with guest speakers – into the national park
Meditation, labyrinth and sacred space design with Laura Collins
Self reflection practice and journal making activity with Christine Baldwin
Sacred song and drumming with Cindy Novelo
Massage services and indoor pool available on site (recommended: schedule massage upon registration)
Unique star watching event designed uniquely for this year's retreat
Daily Retreat Schedule (subject to change)
Day 1
Monday Sept 3
3:00 – 5:00 Check in
5:00 – Dinner Aspen Dining Room
7:00 – Welcome & Orientation ( meet on porch of admin bldg) – Labyrinth
8:30 – Night Sky – Star Watching, wondering, relaxing
Day 2
Tuesday Sept 4
7am – Breakfast
8:30 – Yoga Practice Class with Laura Collins
10:30 – Hike with meditation and picnic lunch with Laura Collins and YMCA Hike Master
1pm – Free Time/Self Reflection Time – in Nature, massage
3:30 – Yoga Principles – Sanskrit the easy way and sacred song with Cindy Novelo
4:30 – Themed Journal Making with Christine Baldwin (see Junk to Joy! Creative Gifts and Workshops facebook page)
6:30 – Dinner Aspen Dining Room
Evening:  Free Time, finish up Journal
Day 3
Wednesday September 5
7 am – Breakfast
8:30 – Yoga Practice Class with Laura Collins
10:30 -Hike with meditation and picnic lunch with Laura Collins and YMCA Hike Master
2pm – Free Time/Self Reflection Time – in nature, massage, etc
4:00 – Restorative Yoga Class  – meditation and pranayama with Laura Collins
4:30 – Yoga Principles Talk, Discussion and Singing with Cindy Novello
5:30 – Themed Journaling Christine Baldwin
6:30 – Special Dinner – Meeting Room
8:30 – Camp Fire and Sacred Drumming/Singing Circle – ooo la la!  Life never felt so good! with Cindy Novelo
Day 4
Thursday September 6
7am – Breakfast & Check Out (bags in admin for safe keeping)
8:30 – Yoga Practice Class, wrap up and sharing led by Laura Collins
12:00 – Lunch
1 pm – Departure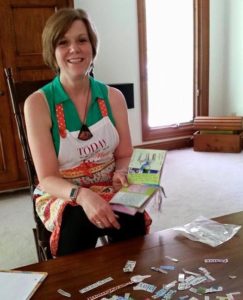 Christine Baldwin & Journal Making
Fire up your creative spirit! Christine will lead us through a joyful journal making session that you can enjoy beyond the retreat. Christine is a health advocate and Reiki certified. She incorporates elements of Reiki in her creativity workshops and has started a small business called Junk To JOY! She is passionate about sharing her love of creativity with others.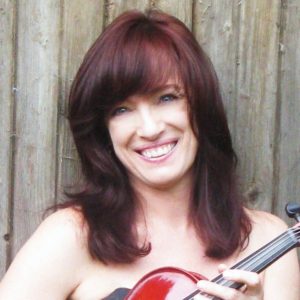 Cindy Novelo: Sacred Song & Demystify Sanskrit
Cindy Novelo is a singer-songwriter, certified yoga teacher, and wellbeing coach with over ten years of experience helping others to discover their most vibrant and expansive selves. Her life has been filled with endless jubilation and joy, as well as sorrow and heartache – including a journey through ovarian cancer. But through it all, one basic thing has always rung true: Life is full of grace and magic – and is to be savored, every step of the way. The challenges she has faced have fortified her and taught her to mine the endless beauty that springs from perceived darkness – and inspired her to help others find healing and to awaken to the grace, beauty and magic in their own lives. Her demystify Sanskrit session will lead us through a creative playful movement series designed to enlighten your life and Sanskrit knowledge in a relevant, not so esoteric way. Learn more at www.cindynovelo.com. To order 'Meditation', click here: http://www.cdbaby.com/cd/cindynovelo2
Contact Laura for more information at (720) 218-1953  or laura@homegrownyoga.com
Testimonials
"I attended Laura's yoga retreat in Tuscany, Italy and was completely fed. Laura's ability to make yoga practical to the creative endeavors of my life are deeply appreciated. I woke up, in my own way and Laura guided me. Thank you so very much. It was a much needed retreat, and you delivered" Barbara, Chicago, IL.
"I've been around the block in the yoga world and I always learn something new when I return to the YMCA each year and take Laura's multi-level yoga classes. I look forward to it every year – Excellent" D. Rosen, San Diego, CA
"Thank you for helping me see, believe in, and feel the light of truth once again. The retreat was a good reminder in this fast paced, sometimes unethical world and I desperately needed a boost. I'll always attend these smaller retreats rather then a large one. The retreat was intimate, fun, and safe. I learned a lot and reconnected with me." Jayne, Denver, CO