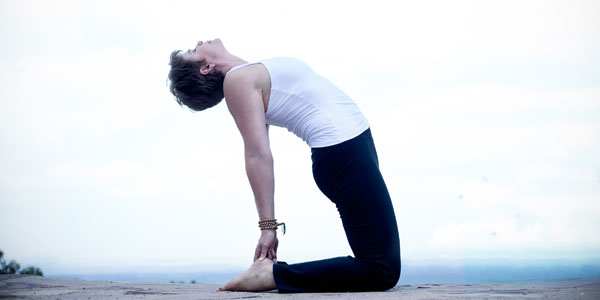 A variety of yoga classes are offered free of charge to all YMCA of the Rockies guests, staff and volunteers. Community members pay a daily grounds usage fee of $20 (which is purchased as the Sweet Memorial Building and allows you access to all YMCA programs and facilities for the day – great deal!!). Classes include a variety of morning and evening yoga classes. Morning weekend classes are a multi-level yoga class where the class focuses on beginning levels, yet more advanced postures are suggested for students who are able to do them.  Classes are based on Integral Yoga with a vinyasa flair, uniquely tailored to the group and designed to bring out your best – homegrown style.  Class ends in a deep relaxation.  Tuesday nights Power Yoga Classes are more rigorous, starting with Sun A and Sun B, yet participants are always encouraged to practice at their own level, and modifications are offered according to ability.  For Tuesday and weekend classes, participants ought to be able to do downward dog and lunges.  All ages and abilities welcome and we'll make it work!  Thursday morning chair class features a centering, gentle chair yoga class which focuses on joint mobilization and building muscular strength/flexibility/balance slowly and gently with the support of a chair.  These skills can be used at work, on an airplane, or anywhere.
Yoga Class Schedule: Saturday 9am classes offered through winter!
Classes are held at YMCA of the Rockies in Estes Park.  All classes are one hour long. No sign up required, just show up!
– Summer classes are typically held May through October. Private classes other times available.  Check the YMCA's Weekly Activity Guide to make sure class is on for the day or call ext. 4101.  
Day
Time
Class
Location – Months Offered
Monday:
Tuesday:
7:30pm

SUMMER

Sunset Power Yoga
Legett Youth Bldg:  (June 18 – Aug 27, 2019)
Wednesday
Thursday
3:00 Summer
Chair Yoga
Museum: June 13 – Aug 29
Friday
Saturday
9:00 am
Multi-Level Yoga
Legett Youth Bldg (Day Camp): Class offered all year
Sunday
9:00 am
Multi-level yoga
Legett Youth Bldg (Day Camp)

(May 5 – June 9, 2019)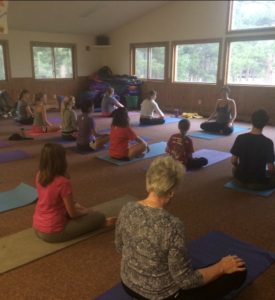 Mats and Blocks: bring your own if you have one; otherwise mats are available.
Chairs: available at chair yoga class on Thursday.
Weddings, Groups and Private Yoga Instruction: private yoga instruction for individuals and groups is also available.  I will work one on one with people with any sort of need or disability, and we can discover together in a personalized yoga session how yoga may benefit you and your particular health needs.    Yoga is great for group bonding as well.  Add a yoga class to your schedule whether it be a family reunion, wedding, conference, or a personal retreat.  Please inquire regarding prices and availability.
Group classes are uniquely designed to meet the needs of your groups, working effectively with all abilities and ages. What better way to unwind after a long travel day or unite a group of people coming from all over the country.  Chairs available to get elderly involved as well.  If desired, a harmonium (handmade "pump organ" from India) is also used allowing the group to celebrate with a short and sweet chant – blessing/enlivening/uniting the occasion. The perfect chant is chosen for your group and if you like, provide a phrase to me and I'll create a chant out of your phrase.  Fun group yoga pictures result from the gathering too.   Group yoga classes are definitely an added gem to your YMCA experience.   Namaste!