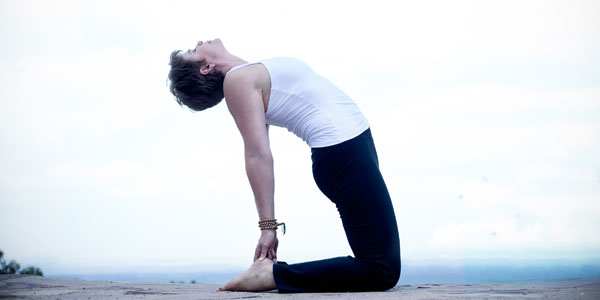 A variety of yoga classes are offered free of charge to all YMCA of the Rockies guests, staff and volunteers. Community members pay a daily grounds usage fee of $25 (which is purchased as the Sweet Memorial Building and allows you access to all YMCA programs and facilities for the day – great deal!!). Classes include a variety of morning, afternoon and evening yoga classes. Morning weekend classes are a vinyasa flow all level yoga classes where the class focuses on beginning levels, yet more advanced postures are suggested for students who are able to do them. Classes are based on Integral Yoga with a vinyasa flair, uniquely tailored to the group and designed to bring out your best – homegrown style.  Each class ends in a deep relaxation.  Tuesday nights Sunset Power Yoga Classes are more rigorous, starting with Sun A and Sun B, yet participants are always encouraged to practice at their own level, and modifications are offered according to ability.  For Tuesday and weekend classes, participants ought to be able to do downward dog and lunges, and be able to get up and down from the floor.  If someone wants to use a chair and join us, please contact me ahead of time as I really try to keep families together who want to share yoga!!  All ages and abilities welcome and we'll make it work! Thursday afternoon chair class features a centering, gentle chair yoga class which focuses on joint mobilization and building muscular strength/flexibility/balance slowly and gently, with the support of a chair – something everyone sits on daily!! So it's great for everyone 🙂  These skills can be used at work, on an airplane, or anywhere.
Yoga Class Schedule:  2021:  
Classes are held at YMCA of the Rockies in Estes Park.  All classes are one hour long. No sign up required, just show up!  Free of charge for YMCA guests, staff and volunteers. 
Private group classes designed and at a time that works for your group, conference or family are also available.  Prices vary for private groups.  Please call Ext. 4101 and inquire. 
YOGA CLASSES – Windows Open and Social Distancing between groups and individuals.  Masks may be required in accordance with county and state laws.  This website will be updated as the Labor Day weekend approaches!
Day
Time
Class
Location – Months Offered
Monday:
Tuesday:
Wednesday
Thursday
Friday
Saturday
Vinyasa Flow – all levels
Legget Youth Center – Saturday Mornings – 9:00 AM.  Labor Day weekend through Memorial weekend.

Please confirm with weekly Activity Guide

Sunday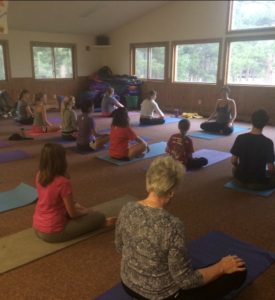 Mats and Blocks: bring your own if you have one; otherwise mats are available.
Chairs: available at chair yoga class.
Weddings, Family reunions, Conferences, Groups, and Private Yoga Instruction: private yoga instruction for individuals and groups is also available.  Yoga offers an awesome way to reconnect, unwind from travels, or focus a group in playful meaningful way.  I also will work one on one with people with any sort of need or disability, and we can discover together in a personalized yoga session how yoga may benefit you and your particular health needs.    Chairs are also used for elderly participants allowing full family involvement!   I can also take pictures at end of class or whenever you like as a nice memo.  A harmonium or pump organ is also an option for chanting sweet songs together.  Consider adding a yoga class to your vacation or conference schedule.  It's a gem!  Please inquire regarding prices and availability.
Namaste!