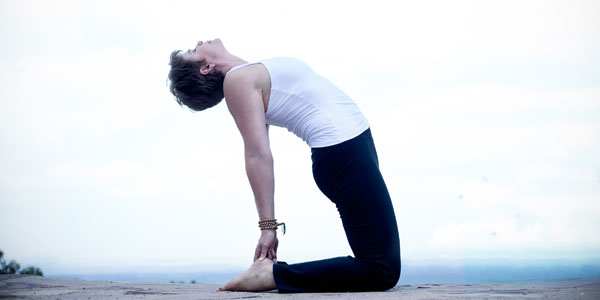 Private group and individual yoga instruction available anytime of year. Text me to inquire and schedule!  Zoom classes available from a distance and privately as well. 
Summer 2023
Two weekly yoga classes are held per week and are free to YMCA guests, volunteers and staff.  People not staying at the Y and community members can join class by paying  a daily grounds usage fee of $29 which is purchased as the Sweet Memorial Building the day of class and allows you access to all YMCA programs and facilities for the day – great deal!!
Tuesday evening and Saturday morning classes  are an all level vinyasa flow class where the class focuses on beginning levels, yet more advanced postures are suggested for students who are able to do them. Classes are based on Integral Yoga with a vinyasa flair, uniquely tailored to the group and designed to bring out your best – homegrown style.  Each class ends in a deep relaxation.
Participants ought to be able to do downward dog and lunges, and be able to get up and down from the floor.  If someone who is not able to do that would like to join class, the person can use a chair and join class.  In this case, please contact me ahead of time to chat about your ability as I really try to keep families together who want to share yoga!!  All ages and abilities welcome and we'll make it work!
Yet know, the classes are not "kids yoga".   There is plenty of space for children to join yet hang out on the couches in the back of the room quietly if they lose interest.  As well, adults who don't want to do the yoga but may want to come and be a part of it can also sit on the couches quietly while other family members are doing yoga.
Yoga Class Schedule:  2023:   
Classes are held at YMCA of the Rockies in Estes Park in Legett Youth Center.  Legett is on the way to the horse stables.  All classes are one hour long.  Sign up required online or at Sweet Memorial building.  Free of charge for YMCA guests, staff and volunteers. 
Private group and individual classes are also available for weddings, conferences, family reunions, or one or one.  Prices vary for private groups.  Please inquire.  Mats provided. 
| | | | |
| --- | --- | --- | --- |
| Day | Time | Class | Location – Months Offered |
| Monday: | | | |
| Tuesday: | 5:30 pm | All Levels Vinyasa | Legett Youth Center (June 13 – August 8, 2023) |
| Wednesday | | | |
| Thursday | | | |
| Friday | | | |
| Saturday | 9:00 am | All Levels Vinyasa | Legett Youth Center (May 27 – August 5, 2023) |
| Sunday | | | |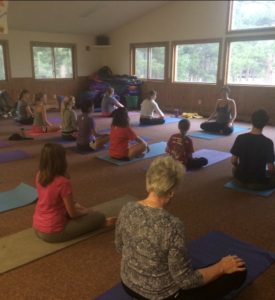 Mats and Blocks: bring your own if you have one; otherwise mats are available.
Chairs: available at chair yoga class.
Weddings, Family reunions, Conferences, Groups: private yoga instruction for individuals and groups is also available. Yoga offers an awesome way to reconnect, unwind from travels, or focus a group in a meaningful way. Chairs are also used for elderly participants allowing full family involvement! I can also take pictures at end of class or whenever you like as a nice memo. A harmonium or pump organ is also an option for chanting sweet songs together.  Consider adding a yoga class to your vacation or conference schedule. It's a gem! Please inquire regarding prices and availability.  I also will work one on one with people with any sort of need or disability, and we can discover together in a personalized yoga session how yoga may benefit you and your particular health needs.
Individual Yoga Instruction in person or Zoom: follow up your massage with a private yoga class designed specifically for your needs. Through yoga postures, breath and awareness we can work together to bring your body and joints into balance leaving you feeling better and more able. Massage offers unique insights into where a person's body is weak, overworked, overstressed, and over stretched. Every little thing we do adds up and massage can see it!
Our body talks. If we listen to the signs early and adjust we can prevent many pain issues down the road. I highly recommend that you schedule a half hour private yoga instruction class with me after having a passage. I don't recommend that we do the class the same day of your massage as you will be in a state of awakened relaxation. I do recommend that we do it before you leave from vacation or when you return home.
Many people wonder if the effects of a massage will last. This depends. Our habits and lifestyle are what dictates most of this.  The massage is a jump start. Your yoga practice will keep the relief going and take you to new, better and healthier levels. Let's talk and get you living at your best. Yoga and massage are great assets to have in your self-care tool kit. It is recommended that you have a monthly massage at the very least; every other week if you can afford it.
If you are having a pain issue it is often recommended that you have two or three sessions within the week, two days apart. With yoga, it is said if you do yoga three times a week it will change your body, and if you do yoga five times a week it will change your life. As a testimony, I am actually more flexible and comfortable in my body then I was in high school. I can't do a back flip flop or back flip any longer, but I can do a lot more and am honestly more flexible with less aches and pains. Did you ever see the movie "My Big Fat Greek Wedding" where the father of the bride poses windex as a solution to any problem?  Well, that's like me but I say yoga!  Yoga helps everything.
Namaste 🙂